Laura Evonne Steinman, Community Artist, believes that lives are nurtured and transformed by creating art together.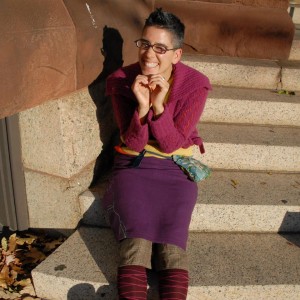 Laura Evonne weaves together justice work with creative spiritual actions. She has worked with people of all ages in schools, community centers, neighborhood backyards, religious institutions, farms, senior centers, orphanages, and hospitals.
Laura Evonne (Ms. Evonne) currently is in 2 Teaching Artist Residencies through VSA Mass. One at The Adams Elementary School in East Boston and another at Worcester Recovery Center and Hospital.  You can find Laura Evonne delivering packages for USPS on Sunday's or on retreats with kids walking goats, playing with kids, set up spaces for rituals at Isabella Freedman Jewish Retreat Center in Falls Village, CT.
Over the past decade, Laura has been teaching workshops on "Material Uses in the Classroom", "How to create a Multi-sensory Classroom" and  "Engaging students of all needs and abilities". This November Laura Evonne is leading an interactive workshop: "Art Educating with our Hero's in Mind" at the Mass Art Ed. Convention -University of Massachusetts Amherst, MA.
Spring of 2017 Laura Evonne finished up 7 years as the Director of Children's Religious Education at Arlington St. Church, Unitarian Universalist in Boston. She designed and was part of making it possible for the Black Lives Matter banner to hang in front of church and worked with a huge team of volunteers to open the church doors during the Women's March. for Bostonians to enjoy refreshments, restrooms and listen to the bells playing from the tower.
When Laura Evonne is not facilitating art making or organizing art happenings, she is sewing something large and colorful, volunteers with her cat, Krowka and dog, Jenna Belle, and guinea pig Allen. Or might also find her digging in her garden, filling up the little free library in front of her home, walking a labyrinth she carved in the grass or visiting her 6 year old Nephew.
Laura Evonne was active with Occupy Boston in the faith and spirituality tent and with the protest chaplains. From that the "Occupy Your Heart" stickers were born! The question "What fills your heart?" goes along with the stickers!

Laura Evonne Steinman was named the 2014 Special Needs Art Educator of the Year by the Massachusetts Art Education Association (MAEA) and was honored at the local MA convention last fall and the National Convention this past April in San Diego, CA. She received her BFA in Sculpture from Rhode Island School of Design (RISD) and her Master of Art in Art Education (MAAE) with a Concentration in Community Arts from The School of the Art Institute of Chicago (SAIC). Laura has created art around the world and lived in Warsaw, Poland from 2002-2007 teaching art in hospitals, schools and orphanages.
Currently, Laura Evonne lives with another human, dogs, cats, fish, a guinea pig, North of Boston surrounded by a ton of house plants and garden.